Henrys Albatros Europ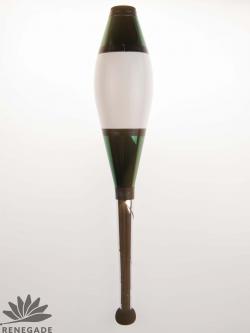 Catalog Number:Clubs:Haabe
Henrys Albatros Europ Juggling Club
This is a decorated version of the Henrys Albatros club. It has two flashy decoration cones on the body with white space in between. This decoration layout holds up better in comparison to a fully decorated body (such as the Albatros Circus 1/10 M), and still makes for an eye-catching club. This club is similar to Classic Europ, only with a wider body.
The large-bodied Albatros Training club is Henrys largest juggling club, comparable to the Renegade 105mm club. This club has a soft wrapped handle, wood dowel, and EVA rubber caps and knobs and each component comes in many different colors. The Albatros has the same body length as Henrys Classic and Delphin clubs, but with a wider body. Albatros Europ clubs are 20.5 inches long and are made in weight-matched sets, with each club weighing approximately 240 grams. This club normally comes with a silver or white wrapped handle that is softer on the catch than a tube handle. However we also offer this club with a white tube handle (the same used on the Delphin club) which reduces the cost by five dollars.
For more information about Henrys juggling clubs, visit How to Choose a Henrys Juggling Club in the Juggling Guide and Tips section in the bottom footer of our website.
weight 238 grams, length 52cm, 20.5 inches