Henrys Classic Europ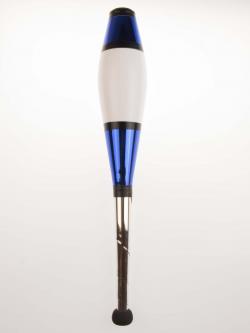 Catalog Number:Clubs:Haabl
Henrys Classic Europ
This is a decorated version of the Henrys Classic Training. It has two decoration cones, that hold up better than fully decorated body, like the Classic Circus 1/8 M.
The Henrys Classic clubs is the same size body as the Delphin juggling club. The body has a similar size to the Renegade 85 mm club. It is similar to Albatros Europ. The only difference is the Classic body is thinner. The clubs are made in matched set weight of 225 gram and are 20.5 inches long. The 1/8 denotes that there are eight strips of silver decoration on the club.
We also offer this club with a white tube handle. The same handle as used on the Delphin club, this reduces the cost of the club by five dollars each.
To help you select a Henry's Juggling Club, look at our Juggling Guide and Tips section listed in the bottom footer of the home page.
weight 225 grams, length 52cm, 20.5 inches