PX4 Sirius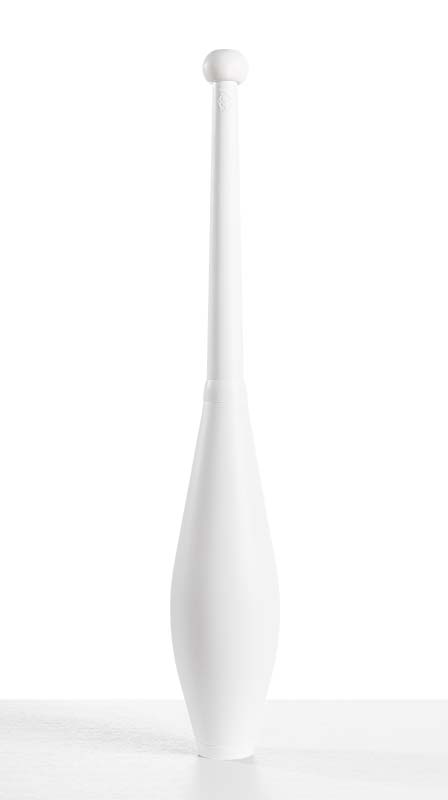 PX4 Sirius
The PX4 Sirius is very similar to the original Play Juggling club. "PX4" refers to the fiberglass dowel used to make this club in place of the original plastic PX3 dowel. The fiberglass dowel is very stiff with no flex, similar to a wood dowel. The model name Sirius refers to the club body and handle length. The Sirius has a short body and long handle, the same size and proportion as the Henrys Pirouette. The total length of a Quantum and Sirius club is the same.
All Play Juggling club models were refurbished in 2017. The old tube grip handle and traditional white wrapped handle were replaced with the new Evo Grip (tube handle) and a new flat cap. The PX4 is very durable. No staples, no tape, no glue. This club is maintenance-free. The assembly without tape keeps the club looking and feeling new. However, like all juggling clubs they are not unbreakable. To increase the life span of your clubs, do not juggle them frozen or on very hard rough surfaces like cement or asphalt.
We custom make each Play Juggling club for you. You can use the club generator on this page to visualize how different colors look together. Select colors for the body, handle, center ring, cap and knob of your club. Choose between round or flat bottom knobs, which are both available in all colors (the round knob type is pictured in the generator graphic).
For more information on Play Juggling Clubs, look under our Juggling Guides and Tips section in the bottom footer of the website for How to Choose a Play Juggling Club.
Px3 Sirius Club Specifications
20 1/2" Standard Length (51.4 cm)
Dowel 5/8" (15.5mm) fiberglass tubing
Handle wrap taped tube
Knob and Cap injection molded
Shell (club body) width 3.2" (81.6 mm) blow molded 86.5 grams
Club weight 226 grams Clubs are hand made in Santa Cruz CA, all parts made in Itlay

by Michael W. on 08/09/19
These clubs are perfect I spent hr mixing a matching colors until I found the right combination
by Royan Gumansingh on 11/09/19
So fun! Fast shipping and personal call when they had questions, even during the holidays. My future juggling all stars are still having so much fun. We can't put the pins away...ever.
I like these clubs a lot. They have a nice stiff feel, and a pretty snappy response. However, I am coming from learning with Zeekio Pegasus, so my opinion probably is only worth so much ;) I deliberated for a long time between px3, px4, ex1 sirius or quantum 🙃 I ultimately went with these because I read that henry's pirouette is kind of the most standard shape and design, and the sirius is modeled after that shape. In hindsight, I think I would have rather ordered the quantum. The main reason I feel this way is that I now realize that the Zeekio Pegasus is more similar to the Delphine/Quantum shape. So the quantum would have felt more familiar to me. Still, I quite enjoy these clubs, I just have to get used to the different shape. As far as px4s, I am a fan so far. The snappiness and stiffness feels great. The construction of these play clubs is lightyears beyond Zeekios. The plastic is harder and more resilient feeling, and the soft touch wrapped handle is a dream compared to the Zeekio and Henry clubs I've used. The caps and know feel more intelligently designed than other clubs I have tried as well. Overall, I am really happy that I tried these clubs. I might have to go for a quantum set at some point, but I think I am a play convert. If I had been able to handle clubs in person before buying, I am pretty sure I would have gone with px4 quantums, but I am giving 5 stars because I can't hold that against Renegade or Play. These clubs will serve me well, and I will feel very pleased to gift them to a new juggler whenever/ if ever I switch to quantums.
My first true clubs were also PX4 Sirius' that I also bought from Renegade about a year ago. The PX4's that arrived in the mail a few days ago were... different. The center ring is a solid piece, instead of taped; and the handle is a single piece of plastic, also untaped but somewhat grippy. At first I was distraught, as my last set of clubs had become like extra appendages and any change was like looking at your hands and seeing that they've changed shape. But, I let my rational mind take over the wheel and say, quite reasonably "Give them a try" ... After a few days, it's clear why Play has decided to upgrade this model. The single piece unwrapped handle is sticky enough to remind one of tape; and yet with none of the mess. However, if one is attempting to break any lightspeed records while doing any type of contact manipulation with a body covered in sweat; (and you're not at the beach, where sand makes up for it with added grit) then the handles make it too slippery to work properly. The one issue; which isn't really an issue, but enough to detract half a star, is that each club has a slight "Click" internally to it, when holding them like drumsticks and moving them up and down like maracas, perpendicular - Parallel to the ground. My description makes this sound absurd; but if you've got 160bpm dark psy trance playing in your headphones, your going to want to keep the beat occasionally.