Henrys Pirouette Circus 1/8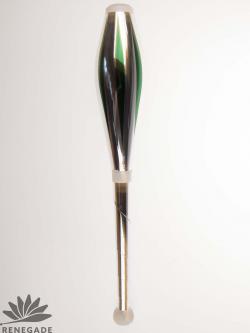 Catalog Number:Clubs:Hpircir
Henrys Pirouette Circus 1/8 Juggling Club
This is a decorated version of the Henrys Pirouette Training. The 1/8 denotes that there are 8 strips of silver. This decoration is fragile if dropped on concrete, asphalt, or other ruff surfaced. The Europ decorated Pirouette is better suited if you need a decorated club for street performing or if you must juggler on ruff surfaces.
The body has a similar size to the Play Sirius club. The clubs are made in matched set weight of 228 gram and are 20.5 inches long.
We also offer this club with a white tube handle. The same handle as used on the Loop club, this reduces the cost of the club by five dollars each.
To help you select a Henrys Juggling Club, look at our Juggling Guide and Tips section listed in the bottom footer of the home page.
weight 228 grams, length 52cm, 20.5 inches