Play Gerris Universal Hand Balance Platform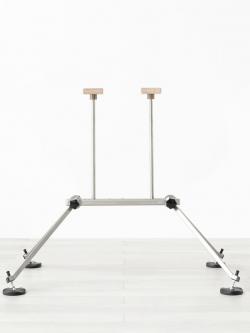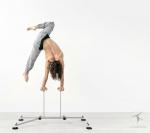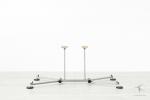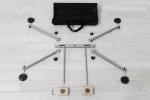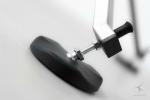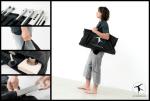 Gerris Universal Hand Balance Platform, by Play Juggling ( Circus Division) is a universal platform with fully adjustable height, shoulder settings and floor leveling foot pads.
The Hand Balance Cane widths can be set to 28 cm, 30cm, 32cm, 34cm, 36cm, 38cm and 40cm (11 inches through 15.75 inches). These shoulder width settings will accommodate most acrobats.
The total height from the ground to top of hand blocks can be set between 58 cm and 91cm (22-36 inches) in height. The hight of the platform can be adjusted by one inch increments. The whole platform can be taken apart and transported in the compartmentalized handstand carring bag. The total weight is 10 kilos ( 22 lbs.) with a bag size of 22 inches x 18 inches.
The handstand platform is made of aluminum with stainless steel canes and beach wood hand blocks. Adjustable non-slip leveling pads enable you to level the stand, even on slanted theater stages. The platform cross bream has a bubble level built it, so each setup situation can easily be made perfectly level.
Handstand canes are much easier to balance on, than hand balancing on the floor. The hand blocks give you much better control and grip. They also reduce the stress on your wrists, as the blocks do no require you to have as much wrist flexibility. Using Handstand Canes and Hand Blocks you can practice longer with less body fatigue, as well as, reduced chances of wrist injury. Adjustable height is also is a important feature, as you can set the hight of the canes in proportion to your height. This platform is by far the most versatile and highest quality on the market. The stand is very stylized for performance, it looks fantastic on stage.
weight 10 kg
max hight hand blocks off ground 91cm
minimum hight of off ground 58cm
stands foot print size, lowest setting, total 135cm x 70cm
stands foot print size, highest setting, total 105cm x 65cm
hand block size 10cm x 13cm x 3cm
shoulder width settings 28 cm, 30cm, 32cm, 34cm, 36cm, 38cm and 40cm, 11 inches through 15.75 inches)
cane length 75cm
cane weight 1kg
made in Italy
https://youtu.be/cuvhKEnMv4k