EX1 Sirius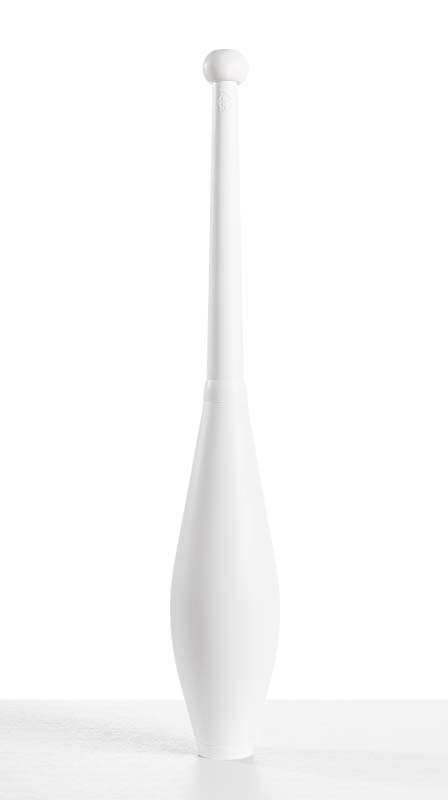 EX1 Sirius
The EX1 Sirius is very similar to the original Play Juggling club. "EX1" refers to the stiff Aluminum (7075) dowel used to make this club. The Aluminum dowel has just a slight bit of flex and is stiffer than a wood dowel. The model name Sirius refers to the club body and handle length. The Sirius has a short body and long handle, the same size and proportion as the Henrys Pirouette. The total length of a Quantum and Sirius club is the same.
All Play Juggling club models were refurbished in 2017. The old tube grip handle and traditional white wrapped handle were replaced with the new Evo Grip (tube handle) and a new flat cap. The EX1 is very durable. No staples, no tape, no glue. This club is maintenance-free. The assembly without tape keeps the club looking and feeling new. However, like all juggling clubs they are not unbreakable. To increase the life span of your clubs, do not juggle them frozen or on very hard rough surfaces like cement or asphalt.
We custom make each Play Juggling club for you. You can use the club generator on this page to visualize how different colors look together. Select colors for the body, handle, center ring, cap and knob of your club. Choose between round or flat bottom knobs, which are both available in all colors (the round knob type is pictured in the generator graphic).
For more information on Play Juggling Clubs, look under our Juggling Guides and Tips section in the bottom footer of the website for How to Choose a Play Juggling Club.
EX1 Sirius Club Specifications
20 1/2" Standard Length (51.4 cm)
Dowel 16mm Aluminum 7075 tubing
Handle wrap taped tube
Knob and Cap injection molded
Shell (club body) width 3.2" (81.6 mm) blow molded 86.5 grams
Club weight 205 grams Clubs are hand made in Santa Cruz CA, all parts made in Itlay

These clubs are amazing! They have made backcrosses, balancing tricks, and knocking/dynamic tricks very noticeably easier! They are also extremely light and comfortable. The rigidity is still taking a bit of getting used to when trying to catch more than two in one hand(when juggling 5) but I'm still so excited about these that I've probably been juggling clubs twice as much or more than before I got them.
I have been a loyal customer of Renegade juggling for over 30 years and always stoked to work with them for all my prop needs. Having exclusively juggled renegade clubs for my entire juggling career, I finally juggled a friend's PX1 clubs and decided to order some myself so that we can more easily do passing patterns together. After checking out the clubs on the Renegade website, I ended up deciding to go with the EX1 clubs in order to come closer to the feel of wooden dowels that I have always juggled in the past. I went this route because I really like props that are tight and precise and the plastic sounded like it would be annoyingly flexy to me and the fiberglass sounded like it might be a bit too harsh to me. Please note, I am not a club juggling specialist, I am much more of a ball juggler. Having said that, I have juggled clubs for decades and do perform with clubs regularly. Here is what I like about the EX1's after only a few minutes of juggling them. 1. They are stiff. Perhaps a bit too stiff. They may actually be stiffer than I want. We shall see as I juggle them more. 2. I love the slender handles. I really like doing flourishes and finger rolling clubs for some of those flourishes, and the slender handles of these clubs is really helpful. 3. Light weight- I like the lighter weight of these clubs. As I get on in years, lighter weight feels like a good option for going easier on my arms, shoulders and wrists. 4. Round Knobs- I really love the knobs on these because they allow me to do some club swinging with the clubs. 5. Modularity- I love the fact that I can swap out different parts of the clubs as needed to keep them in good shape, or even to just change a color accent for a certain costume look in the show. All in all, I am pleased with these clubs and look forward to juggilng them to find out if I made the right shaft selection. Cons on these clubs: 1. The aluminum shaft may be a bit too stiff and a bit too harsh, time will tell. 2. The slender handles that I love so much, offer a bit less cushion than fatter handles where the plastic wrap can collapse more with each catch and thereby absorb more impact with each catch. So that is a trade off with the slimmer handles. 3. Color selection: I find the color selection of these clubs to be beautiful but limited. The pastels are cool, but not very practical for me as a performer. I need clubs that can be seen against a blue sky or in a theater. The lighter colors don't have strong enough contrast against a background to show up as much as I want. This may not matter for a non-performer, but as a peformer, this is very important. I would love to see some more solid/bold colors in the line-up. Fortunately there are some good colors to choose from and I am super stoked on the vibrant green that I selected, but I guess I am little surprised at the dominance of soft pastel colors in the line-up as those simply seem less practical to me. Hopefully they will continue to add some colors as time goes on. That is what I can say so far about these clubs, I will try to write a more comprehensive review once I have worked with them for a while.
Not for beginners. These clubs have zero flex and the handles are hard as a rock. Painful to learn with these. I think these clubs are only useful if you are a pro and you are jugging more than 7 clubs. My thumbs are destroyed. Not fun at all to juggle.