PX4 Sirius Short Handle (19.25 inch)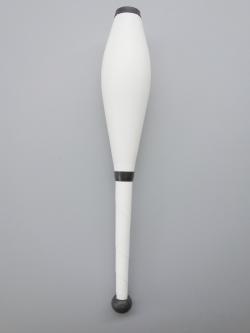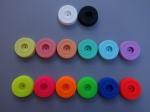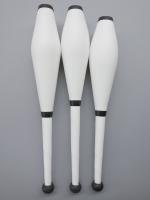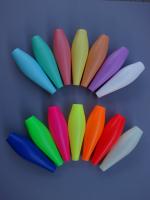 Catalog Number:Clubs:PX4SIRS
Reneagde Juggling offers a specail short handel version of the Sirius Px4 club, this model uses
the Sirius body with the shorter Quantum handle to make a short handle club with a total lenght of
19 1/4 inches 49cm. Total weight is 215 grams
The all new Px4 juggling club, you can select from 14 colors of each component. This product page is under construction
so to view color options and combinations go to the link below and use the club generator to make your color selections.
The photo of two clubs shows the size comparison of the Sirius and Quantum Px4 models. The
Quantum has a longer body and shorter handel but both are the same total lenght. The differance
between the two clubs is mostly asthtic, though the do juggle very slightly different.
FIBREGLASS CORE At the core of the PX4 is a fibreglass rod, giving you both solidity and resilience. Bend it, bang it or run over it in a car and it will simply spring back into shape. The mechanical benefits of the fiberglass core combined with the new EVO GRIP make the PX4 more responsive, assuring you even greater control.
EXTREME DURABILITY At PLAY we love the idea of creating products that are "indestructible". The one-piece moulded handle. No staples, no tape, no glue. We have spent years experimenting and improving on each element in order to make a quality product that lasts. We have worked to make our clubs virtually maintenance-free and swift to assemble, allowing us to deliver these beauties at a competitive price.
INNOVATIVE GRIP Thanks to a new type of plastic compound called "soft touch", we achieved the perfect compromise between solid feel and smooth grip. Choose between long or short, and smooth or wrapped.
FULLY CUSTOMISABLE Choose body length, end profile and handle style to create your perfect club. Then personalise it by choosing each component from a wide range of colours.
Px3 Quantum Club Specifications
Length 19.25
Dowel 5/8" (15.5mm) fiberglass tubing
Handle wrap taped tube
Knob and Cap injection molded
Shell (club body) width 3.2" (81.6 mm) blow molded 86.5 grams
Club weight 223 grams Clubs are hand made in Santa Cruz CA, all parts made in Itlay