Play Hand Balance Board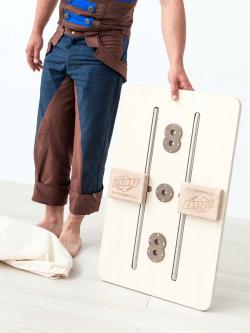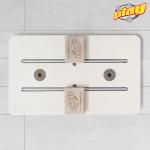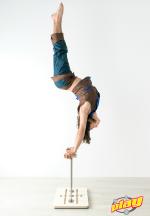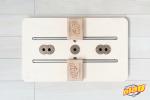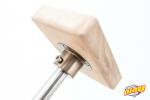 Play Hand Balance Board
This integrated board design, uses the handblocks to lock in the canes to the base board for transport. It feature duel cane sockets,giving you three cane width setting. Ranging between 32 cm and 38 cm. The board also has a center cane socket for a one-handed balance pose. You are able to purchase separately, a cane with a ball bearing hand block if you would like to perform a rotating one-hand stand.
The base board is made from 25mm thick plywood that is precision cut by CNC. The base board is 40 cm x 68 cm and provides a wide stable platform to balance on. The total weight of the unit, which includes a carrying bag is 7 KG (15.5 pounds). The hand blocks are made of solid beach wood and provide a solid gripping surface for your hands. The block measure 13 cm x 10 cm and are 3 cm thick.
The board with it's rubber non-slip feet and the stainless steel canes in the sockets, has a total height of 60 cm from the floor surface to the top of the block. This is a optimal hight for most acrobats.
We now offer a economy board with a single-setting width of 34 cm 13.38 inches, which is the most common size, to fit average sized people. It does not have a center socket. This board uses the same canes, hand blocks and cane socket size as the Gerris Hand Balance Platform, so the canes can be interchanged between both products.
Hand Balancing is very ancient art form. A female acrobat is depicted on a Greek hydra dated at 340-330 BC. Minoan (Crete) acrobats on the backs of bulls have been dated at 2000 BC. Acrobatics including hand stands, was also part of Chinese culture in the Western Han Dynasty (206 BC-AD220) The first use of hand balance canes is unknown, but surely it is a very old technique.
weight 15.5 pounds
hight of hand blocks off ground 60 cm
board size 68cm x 40cm
hand block size 13 cm x 10 cm x 3 cm
shoulder width settings range 32 cm to 38 cm
cane length 55cm
canes are made from stainless steel
cane diameter 18mm
made in Italy