K8 Sundia IR-RGB LED Diabolo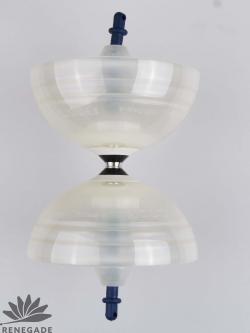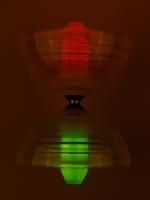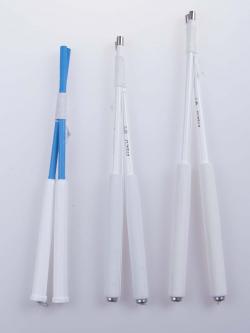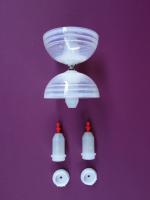 Catalog Number:InvDiab:k8led
K8 Sundia IR-RGB LED Diabolo
The K8 Diaoblo RGB-IR is a professional LED electronic system that produces different colors and pre-programmable strobe effects. The diabolo colors and strobe effects are changed by using a remote control via infra-red (IR) signal. You need to order a charger and cables to run this product. These LED diabolo lights works with the same remote and charger as the K8 LED clubs and balls. So if you already have K8 IR-RGB products you only need to buy the lights.
The new remote control system works up to about 2 feet away. You can change the color or strobe effects by pushing the individual color buttons on the remote. If two diabolos are held close together both change colors at the same time. The remote's signal is not strong enough to change the colors from off stage. The Diabolo RGB is made of the latest generation LED's.The electronic system has Li-Polymer batteries that can be recharged with a telephone wall charger or any USB port. The charging time of the glow diabolo is two to eight hours.
IR (infra-red) reciver has an internal timer. The receiver will stay for two hours in standby mode, after which it will automatically turn off, to save power. To reset the timer you just need to put in the mini-plug.
For more information on how to choose adiabolo look at our Jugglng Guide and Tips section at the bottom of the footer on the home page.
Weight Sundia Shinning Diabolo with lights 338 grams
Weight of light unit each 40 grams, pair of lights 80 grams
Light dimension 1.25 inch wide x 3.0 inch long
Light housing made from nylon
Light housing will fit on Sundia, and Tiabolo diabolos only
Made in Argentina