Renegade Clubs Un-Decorated 95mm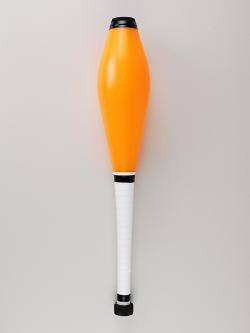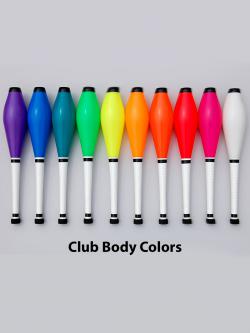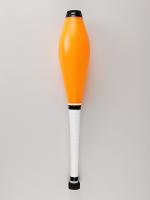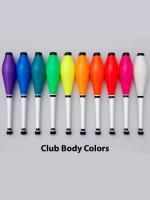 Description
The original 95mm Renegade club (1982) was designed and tested by avid club passers and it is the premier passing/solo juggling club. The standard length has a slow and lofty spin, is great for body tricks and an all around great club for both passing and solo juggling. Shorter jugglers may prefer a short handle version (shorter length), but in general, most people order standard weight, standard length. This club is the same as the 95mm decorated club, just without the decorations.
The 95mm Renegade club design features: taped or un-taped handle, stepped ground rubber top, larger body size, a very durable plastic body, and custom options on all the clubs components.
The 95mm Renegade club was used for the stunning 45 minute five club juggling world record held by Anthony Gatto. The club design, combining a 13/16 inch, select-weight, maple dowel with our in-house molded club body, gives the 95MM club unrivaled handling and durability. The spin of the club is excellent for all type and levels of juggling. If you are a beginner, intermediate or advanced professional juggler, five to six feet tall, this is a good size club to select. You can now order this club in a lighter weight by selecting the 3/4 dowel.
Video content LukaLuka (Luke Wilson & Ilka Licht) passing clubs at the EJC 2003, using Renegade 95mm clubs.
Specifications
95mm Club Specifications
20 1/4" Standard Length (51.4 cm)
19 3/4" Custom Length (50.2 cm)
19 1/2" Custom Length (49.5 cm)
19 1/4" Custom Length (48.9 cm)
19" Custom Length (48.3 cm)
3/4 inch (19 mm) soft maple dowel club weight 225- 240 grams
Handle wrap taped 0.20 inch HDPE (5mm) un-taped 0.30 inch (7.6mm) HDPE
Handle tape 0.10 inch (2.5mm) vinyl tape
Knob and Cap rubber
Shell (club body) width 3.75 inch ( 95mm ) Hard body LLDPE Soft Body LDPE
Shell colors, white, red, yellow, pink, green, blue, aqua, orange, tangerine, yellow, all color day-glow florescent except white
Club are hand made in Santa Cruz CA, all parts made in USA

Video
Video