Renegade was the first company world wide to sell the now famous "Poll Hat". The hat was designed by Neils Poll, specifically made for hat manipulation. We have added four of our own designed, the Triple Felt Top Hat, Pork Pie, Triby hat, and Cone Head Hat. They are all handmade in Denmark, to the highest quality standards.
In oder for a hat to work well for hat juggling or hat manipulation, it needs to be properly weighted. The Poll hat, Pork Pie, Top Hat, and Tribly are all made of three layers of felt, sewn together to make a premium quality hat. The Poll Hat is the best all around for juggling, it has a round shape (not oblong) and a stiff brim. This is followed by the Triple Felt Top Hat which is also has a round shape. The Pork Pie and Tribly hats are more for costuming, with limited use for hat tricks, they are oblong shaped and lighter so they do not work as good as the Poll Hat or Top Hat for juggling.
The Flying Hat, is a light weight specially made hat for juggling like a frisbee. With this style hat you can combine hat tricks and juggling. The Flying Hat is great for partner hat juggling routines.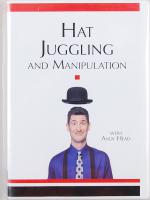 Hat Juggling DVD with Andy Head
Catalog Number: DVD:HATD
Learn how to juggling hats, teaches all the basic hat manipulation moves.