Stage balls are made of semi-soft vinyl plastic. These hollow juggling balls are very durable and show up on stage well with their vivid solid colors. This type of ball, is firm so you can accurately throw the ball without any flex or give to the juggling ball. This solid feel also translates into the catch.
However, if the balls collide in the juggling pattern they tend to bounce off each other more than a soft leather ball, or vinyl beanbag ball. The stage ball also can roll away when it hits the ground if you drop. Because of this stage balls are better suited for intermediate to advanced jugglers.
Stage balls come in many size, for toss juggling the three and four inch size is most commonly used, the larger sizes are for contact juggling, or in special cases can be used as a toss juggling ball.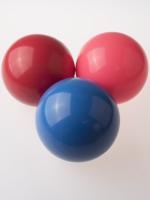 Catalog Number: PSB130
A new 5 inch size of stage balls, for body rolls and contact juggling.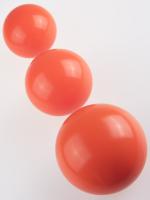 Stage Ball 5.0, 5.5, 6.25, 7.5 Inch
Catalog Number: Stgbal:STG500
The Large stage ball come in 4 sizes, they are made out of hollow vinyl.