leather beanbag collection
Leather balls are a very nice product for teaching juggling, or for jugglers who like to practice lots. They are the most durable beanbag type ball. The advantage of a beanbag type ball is that they do not roll away when you drop them, and if they hit each other in the pattern they do not bounce off each other very much.
We offer several different sewing patterns. In general the more panels the ball has the rounder it is. We recommend the 4 panel leather juggling ball for teaching or learning to juggle, it comes in two size, the smaller one for children and the larger size for teenagers and adult jugglers.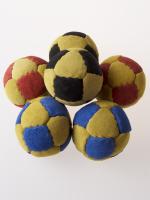 Catalog Number: Bbags:SUE14
The 14 panel suede leather ball is the largest size we offer.
Catalog Number: Bbags:rastelli
Soccer ball sized leather, a classic Enrico Rastelli Ball replica.