Bounce balls are specially made for juggling off the ground, call force bounce juggling, or just ball bounce juggling. The balls have a very high rebound, so you can drop the ball on a hard surface and it will bounce high enough to easily catch it.
There are two types, compressed rubber or silicone balls. The compressed rubber balls are much cheaper than silicone balls and bounce just as high or higher than silicone balls. The advantage of silicone balls is they do not get dirty or stained, most dirt easily wipes of, and they have a very nice feel in your hands.
Using bounce balls for normal toss juggling (in the air) is fine but if they collide in the pattern or if you drop them they roll and bounce away from you. Combinations of toss jugging and bounce juggling is generally done by more advanced jugglers.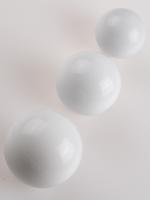 Radfactor EVA Russian ball 65mm, 75mm and 80mm
Catalog Number: RFB80mm
The Premium Russian ball, top quality made in Japan.