dance poles and aerial arts
100% pole
"A pole is just ... a pole" is a phrase you might hear from Those Who have never tried The Pole dance poles.
Our dance poles have an almost magical grip, are light and easy to transport to exhibitions and competitions, and have many different and unique aesthetic options.
'For Those Who do not just practice a sport, but strive for perfection, Overcoming any limitations.' Our dance poles are designed and tested by top professionals, with an Entirely Italian-made production process That uses certified and eco-friendly materials.
We dedicated our work to Both business and private customers, doing our best to Provide them with high-quality products and services. Our customers' opinions, requests and expectations are extremely important to us.Thanks to you, we Constantly improve, striving for better results every time.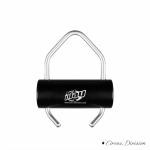 Catalog Number: PASH
The utlmate silk hook, easy to tie and safe to use.