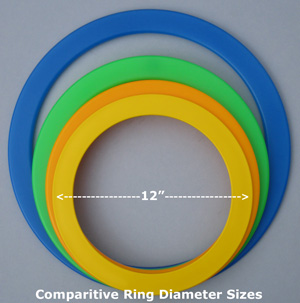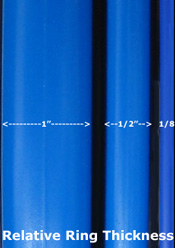 We offer two styles of juggling rings, hollow or solid plastic rings. The hollow rings come in two thickness, 1 inch or 1/2 inch thick. The flat rings only come in a 1/8 inch thickness and are solid.
The flat rings is good for numbers juggling (more than 5 rings). Their relitive thinness allows you to hold them between your fingers, so you can have as many as 4 rings in your hand. This thinner ring also has less chance of hitting on edge, at the top of the pattern. However these rings are harder on your hands to catch, compaired to the hollow rings. The flat rings come in soild colors, or two sided with a different color on each side, called color change rings. The hologrphic rings are laminated holographic decorations where as, the color change rings are painted white on one side.
Renegade hollow rings are the best for teaching ring juggling or learning how to juggle rings, becuase they are very easy on your hands compaired to a flat ring. They come in four sizes, passing ring 1" X 14", solo ring 1/2" x 14, large solo ring 1/2" x 15" and stage ring 1/2" x 19". The 14 inch passing or solo ring is the best ring for begining ring juggling.
| | | |
| --- | --- | --- |
| The Passing Ring is 1 inch thick, a very good ring for circus schools. | The solo ring is 1/2 inch thick, the best size for learning how to juggle rings. | The 15 inch diameter of this 1/2 inch thick ring make it more visible on stage. |
| Our largest sized hollow ring, look great on stage for solo juggling or passing. | Affordable and durable LED juggling ring, with lithium batteries. | This 16 inch flat ring is the largest sized ring used for numbers juggling. |
| This 12.75 inch flat ring is the most common sized used for numbers juggling. | This 12.75 inch flat ring is a common sized used for numbers juggling. | This 9.5 inch ring is used for juggling multi-sized flat rings. |
| Color Change Rings, have one half of the ring colored and one half white. You ca... | Color Change Rings, half of the ring is a color and the other half is holographi... | Full Holographic Rings are laminated silver holographic foil. This laminate will... |
| Renegade Fire Rings fly great for solo juggling, and ring passing. You can also ... | Renegadesignlab RdL, iSo eight rings. These performance sized rings are for cont... | Arm and Leg Sinning Ring 21 inch diameter |
| Renegadesignlab RdL, baby eight rings. A new smaller size manipulation/isolation... | RdL, d+ring with a center circle for ball and club combination tricks. | RdL, d-ring, a new shape for a juggling ring. |
| RdL, Dodecagon, a 12 sided juggling ring. | Renegadesignlab RdL, eight rings. These performance sized rings are for contact ... | Renegadesignlab RdL, A new development for contact manipulation/isolation. |
| RdL, Inner Pentagon | iSo-Double Ring, a new development for contact manipulation/isolation. | iSo-Triple Ring, a new development for contact manipulation/isolation. |
| Renegadesignlab RdL, nano rings. | RdL, octagon, eight sided juggling ring. | RdL, Pieces of Five, Five rings, Five sizes. |
| Renegadesignlab RdL, TracRing, a new direction for contact and ring manipulation... | Renegadesignlab RdL, trirings. These "rings" are a new development for contact m... | Renegadesignlab RdL, "rings" are a new development for manipulation. They make a... |